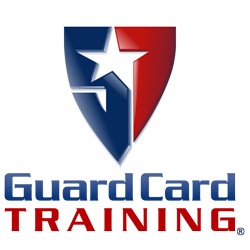 Arizona Department of Public Safety (DPS)
Welcome to the STC Guard Card Training® program offering for the State of Arizona.
The 8-hours Arizona Unarmed Security Guard Skills Training Course must be completed before the Unarmed Security Guard Registration certificate and identification card are issued.
NOTE: These training manuals are intended for use as part of an instructor-led course in accordance with the Arizona Revised Statutes and Arizona Administrative Codes. These manuals may be used exclusively by a DPS Licensing-Certified Security Guard instructor in approved and licensed training facilities.
Available Manuals:
8-hours, Unarmed Skills Training Course for Security Guards: Arizona
Pre-assigment training
8-hours, Unarmed Refresher Course for Security Guards: Arizona
Bi-Annual Continuing Education Course
Licensing Options
We offer two different licensing options. The material is the same in both programs, but each program has different benefits fitted to the teaching style and size of the school.
The first option is our "Pay As You Go" program. With Option 1 there are no recurring fees. Simply purchase the manuals, purchase the Final Exam/Presentation packet and begin teaching. There is no commitment or minimum quantity. The manuals are considered a reusable "classroom set."
The second option is our "Annual License" program. For a recurring annual fee, there are benefits not available in our "Pay As You Go" program. Most significantly, all of the training manuals are purchased at a steep discount. The discount is made available so that manuals may be distributed to students that they keep. Distributing personal training materials is not only an educational best practice it helps shield against liability claims. For example, the school not only presented the information in the classroom, but the student was provided with a personal, printed copy of the material that he or she took home. This makes it more difficult to claim, "I was never taught that." Second, all updates to the digital training materials (presentations, exams, answer keys, etc.) are provided for free so long as the license agreement is in effect (new editions of the printed manuals must still be purchased).
STC Guard Card Training®